Let us first understand what marketing is. Marketing is an action of promoting or placing a company's product or services in a market in such a creative way that it attracts not only the existing customers but also the potential customers. Hence, Technical Marketing is a Part of Marketing
It is a fact that no company can survive without marketing, whether it's a small or large company, a veteran or start-up.
Simply putting it means it is that type of marketing in which the marketers explain the key features and specifications of the technically complex products such as the smartphones that everyone uses nowadays.
WHAT'S IN IT
Examples of Technical Marketing
Examples make learning easier. So to make you all understand better the concept of technical marketing here are some cases: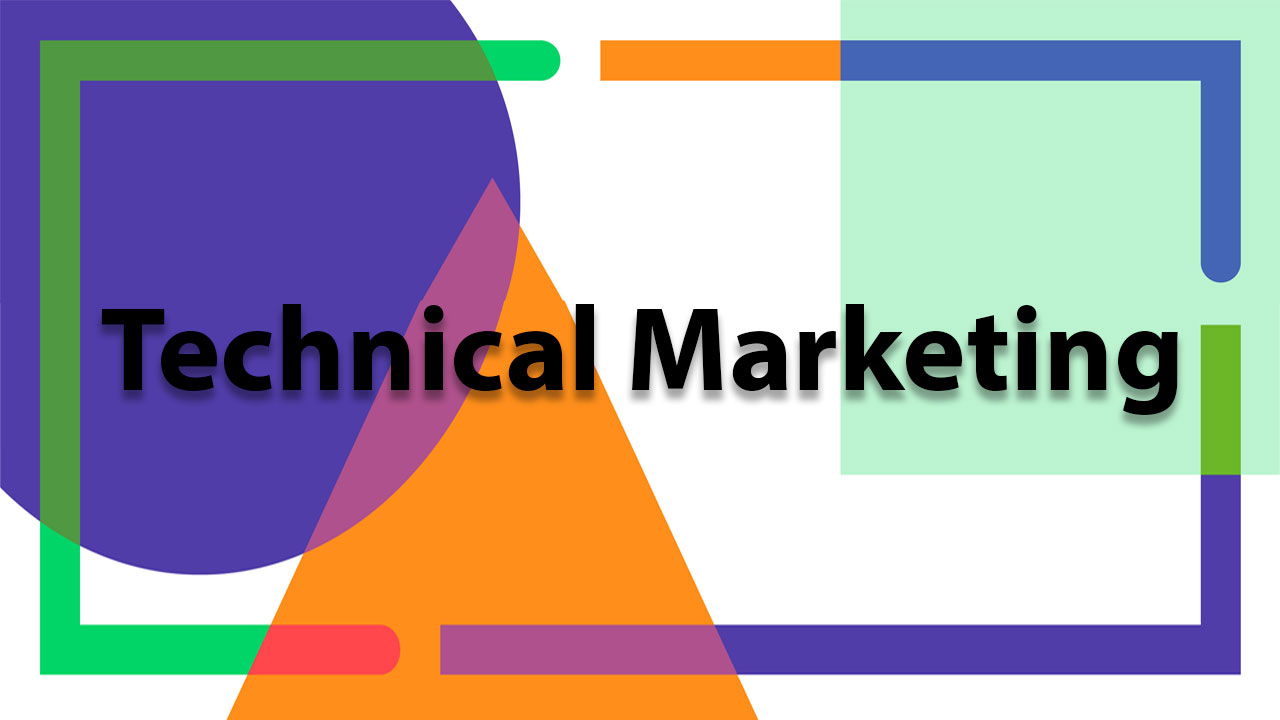 Recently, I went to a mobile shop to buy my new mobile phone and there the shopkeeper showed me a variety of smartphones. Then he explained to me the features of those phones such as the storage, processor, RAM, camera megapixel, battery life etc. to give me some options to compare and make a better choice.
Whenever we go to an electronic shop to buy any item, the marketer always tells us about the technical information about the particular product like for a T.V the information about the picture resolution, display colours, pixel density is provided to the customer.
Whenever you go to a car showroom or see an advertisement about a new car on T.V, they often inform the viewers/customers about the mileage, horsepower or some other specific features even though they are not sure that they are aware of this terms or not.
Any advertisement that informs the viewers or the potential customers about the products specific features and uses some technical terms is a perfect example of telemarketing.
B2B businesses also require technical marketing as they make specialized equipment needed for production.
Careers in Technical Marketing
So, Technical marketing is not just one people's job.
Consequently, It consists of a team, and in that team, many people possess a different kind of skills.
Following are a few highly valuable posts required for a technical marketing project.
Market Researcher
No project can be started without some proper research about the market or product.
At initial stages, the marketing team will rely on the researcher to accurately gather and analyze the information on consumer's behaviour, market pattern and the product that is going to be launched.
So, To be a market researcher, he/she should have a bachelor's degree in business, sociology or marketing.
Above all, an experience in a data-focused field like analysis or database management.
Web designer
Hence, As we all know, it is a technologically driven era in which the businesses operate, and almost all the companies are online.
So whenever a customer wants to know about a specific product, he/she will seek the company's website to gain some more knowledge about the product.
Then there the web designer is in need, and she is in charge of coding and the visual layout of the website.
She or he has to become technical in personal computer literacy and has to know with any sort of firm computer software.
A bachelor amount of science in promotion, website designing or computer science is critical for your internet designer.
Instructional Designer
The name itself suggests the job of the designer and, i.e. to provide the customers with proper instructions about the product.
A company advertises many products which are technically complex and require training to use them.
The instructional designer prepares e-books, video tutorials etc. to explain the specifications of the product adequately.
She or he has to use a bachelor diploma in advertising and marketing, enterprise, instruction and communications.
Technical Marketing Engineer
Technical Marketing Engineer is a person who posses two different types of skill, i.e., marketing and engineering. No matter how the salesperson is, he/she can fail if they don't have all the knowledge about the product.
And that's where a technical marketing engineer steps in to help the company. His role is to fill up the gap between marketing and engineering, to make the sales, advertising and marketing department understand the exact qualities of the product.
He/she works for a company which deals with technical products such as smartphone companies. He/she possess detailed knowledge about the product.
At conferences and trade shows, he/she is the one responsible for representing the company and give answers to the technical questions thrown at them. And the explanation should be such that both technical and non-technical person can grasp what he/she said.
Technical Marketing Manager
A technical marketing manager is the one who works closely with the marketing, engineering, product, business development and sales teams.
His/her responsibilities include
producing technical content,
teaching the customer whether technical or non-technical how to properly use the product,
providing technical guidance to different departments.
How to become an excellent technical marketer
There are specific skills one should possess to be an excellent technical marketer, whether hard or soft skills. Some of them are:
Hard skills (specialized knowledge)
Content marketing
Firstly, to be an excellent technical marketer one should possess the know-how of making good use of well-written content by using a variety of content-based marketing assets like using the tools for SEO, white papers with tags or by amplifying it on social media etc. So that your site can rank on various search engines
Nowadays, topic clustering is a new strategy to make readers visit your website and increase the click rate. Developing a good strategy for content marketing is a must for technical marketers.
Also You can Read Our Blog on What is Content Marketing?
Writing
Writing an excellent article comes first then marketing it because no matter how much you market your content until and unless the material is up to the mark, you cannot attract the readers.
Moreover, a technical marketer should be an excellent writer and should possess mastery over various elements like diction, syntax, expressions, grammar etc.
Research and analysis
A technical marketer should possess a great deal of knowledge about their niche while preparing their content to communicate with their target audience effectively.
They must have excellent research ability to find every data related to their content and the business. They should be able to draw conclusions based on their analysis of the research.
Public speaking
Besides, you cannot be an excellent technical marketer if you have stage fright and cannot communicate with a broader set of audience.
He/she should be able to share his/her thoughts and speak competently in front of anyone if told to do so.
Business knowledge
To enumerate, a technical marketer is the one who knows everything about the business he/she works for.
He/she should be able to describe every detail about the return on investment and the use cases the business provides to their customers through their product or services.
Soft skills (Required knowledge)
Adaptability
Certainly, a good technical marketer should be able to adjust herself to the prevailing situation as the business environment is never stable, it's dynamic.
He/she should be flexible towards the ever-changing needs of the customers and rapidly evolving fields.
Problem-solving
Above all, to provide the customers with better solutions to their problems a technical marketer always intervenes and uses his specialized knowledge to solve their problems. He/she sees every problem as an opportunity to get benefited from.
Creativity
Certainly, one should have the creativity to be a great technical marketer. He/she should be able to create an appealing marketing strategy by using creative energy and insights.
Not only if you are working as a web designer but also for another post continually seeking inspiration and developing something creative is important.
Decision-making
Moreover, a technical marketer is responsible for making decisions related to marketing strategy
Is there a difference between technical marketing and product marketing?
Both the terms are similar in the sense that perform the same tasks of marketing a product. But there is a difference between the two of them
Technical Marketing
It is that type of marketing in which the focus is on explaining how a technically complex product works: white papers, giving presentations, using data to make educated decisions for marketing strategies.
Not exclusively but technical marketing is related to science, health or engineering.
It also bridges the gap between the marketing aspect and the technicality/engineering side of the business.
Product Marketing
On the other hand, product marketing is the promotion of products or services to a consumer.
It usually involves fast-moving consumer goods (FMCG).
It acts as a bridge between product development and brand awareness.
Conclusion
Technical Marketing is an essential aspect for businesses who deal with high-tech products which are becoming an integral part of our life. That's why it is necessary for explaining the technicalities of the product.
Most importantly, one can make a successful career in technical marketing and can earn good money through it.
To conclude, technical marketing is a complex phenomenon to define, but it does have a bright future ahead of it.
FAQs