If you are a businessman or working for a business, you have heard about the term supply chain management in manufacturing or wholesale business and retail management in retail business.
So, You might be manufacturing a product, selling a ready-made product or providing any kind of service to the customers.
If you are a seller and earn profit margin upon your sales, you are working for product industry and if you are offering services and charge money for that, then you belong to the service industry.
Contents-
1. Types of Business
Generally, there are many types of businesses that belong to various industries, but if we talk about the target audience, there are of two types of businesses-
B2B Business- If you are selling a product to someone who against sells that product forward, it means you are dealing with a business. This is called B2B business model i.e. business to business.
So, Mostly, This type of businessman is a wholesaler that sells products in large quantity. Hence, The sales are done on high volume and the profit margin is low.
But even if you are selling a less quantity of products to other business, then it is also B2B business.
B2C Business- If the customer is purchasing a product for his own use, then he is actually a consumer. So, if you sell a product to someone who consumes it, then you are working on B2C business model i.e. business to consumer.
"Always remember this, a customer is the one who purchases your product, and a consumer is a final customer that consumes or uses your product."
Generally, B2C businesses are retail stores that are present near your locations and the local markets of your city. Every store sells the products or service of a particular niche and fulfils different types of needs.
What is Retail?
The term 'retail' is comes from a French word 'retaillier' which means 'to cut into pieces' or 'to break bulk'.
"Retailing includes all the activities involved in selling goods or services to the final customers for personal, non-business use". – Philip Kotler
When a person either manufacturer or a reseller, sells goods in bulk, then it is wholesale. Whereas a person who sells goods to the customer who doesn't purchase it to sell, but for personal use, then it is a retail business.
The seller is called a retailer and sells in a limited quantity demanded by the customer. The consumer purchases a product from the retailer highest possible price of that product i.e. MRP (Maximum Retail Price).
Generally, a retailer can be a normal shopkeeper or an owner of a big retail store chain. A small retailer offers the goods on MRP whereas the large retail chain players can provide discounts due to overall high sales.
Types of Retailing
Ownership Based Retailing
1. Independent Retailer
An independent retailer is generally a local shop owner or a street-side vendor that operates his business with a single outlet. He captures the customers of nearby locations.
2. Chain Stores
When a business has two or more branches under single ownership, then it is called a chain store. These stores can be present in different locations or even different cities and offer the same line-up of products in every outlet.
Example- Raymonds, Bata, Westside
3. Franchise Stores
Franchise business is an agreement between an established brand that is the franchisor and the other person is a franchisee.
In this business model the franchisor demands a royalty fee for his brand name from the franchisee and charges effect percentage of amount from the monthly sales.
Example- Dominos, KFC, Subway
4. Leased Department Store
This type of business can also be called shop-in-shop or store-in-store. The owner is a lessor that provides the space to a lessee. The companies adopted this process to spread the awareness of their brand.
5. Consumer Co-operatives Stores
These are the stores that are owned by consumers themselves. A group of consumers can identify a gap in the fulfilment of their needs and start a store mutually with profit-sharing.
Example- 'Apna Bazaar' in Mumbai, 'Super Bazaar' in Delhi
Merchandise Based Retailing
1. Departmental Store
A departmental store is a large retail store that provides a wide line-up of products to the customers under one roof. Generally, they have separate sections for different categories of products.
The products they sell are usually Electronic Appliances, Apparels, Jewellery & Accessories, Footwears etc. Since the products are properly arranged, the customer shopping experience also becomes good.
Example- Pantaloons, Max, Shoppers Stop
2. Convenience Store
These are the small retail shops that are located near a residential area to fulfil the demands of people. The retailers of a convenience store purchase selected goods in a very limited quantity depending on the basic needs of the customers of that locality.
3. Speciality Store
Basically, These types of stores don't have a wide range of products. They focus on a particular niche such as sports products, fitness products, electronic products. They have a very selective and refined customer base and provide a variety in model, size, colours etc.
Example- Nike, Levi's
4. Super Market
Supermarkets are basically self-service stores that provide groceries and other household items that are necessary for the customers. The products are properly organised into different sections
The customer can pick the products of their choice in their cart and purchase them by paying the amount at the billing counter.
Example- Reliance Fresh, V Mart
5. Discount Store
A discount store sells the standard merchandise at very low prices. Let me tell you that the quality of the product is not compromised. In fact, they operate on a high volume of sales with a low-profit margin.
Example- Walmart
6. Hypermarket or Superstore
If we combine a supermarket with a departmental store, it becomes a hypermarket. The term "hypermarket "was originated in France. At many places, people call it a superstore.
A hypermarket is one of the best options for the people to complete their shopping in one go at a single place.
Example- Big Bazaar, D Mart, Hypercity
7. Catalogue Store
You have visited many retail stores where the seller shows you catalogues offer a wide range of products. You can select any of the product of your choice.
The retailer orders it to the manufacturer or supplier and finally delivers it to you. This type of stores are catalogue stores.
Non-Store Based Retailing
The retail business that does not operate in any physical store comes under non-store retailing. You can also call it online retailing or ecommerce.
Here the retailer can be in direct contact with the consumer at the workplace as well as at home.
Example- Postal Orders, Telemarketing, Automated Vending Machines
Service Based Retailing
When a person does not sell any product to the customer but provides service and charges and amount for that, then this process comes under service-based retailing.
Example- Car Rentals, Appliance Repairing, Salon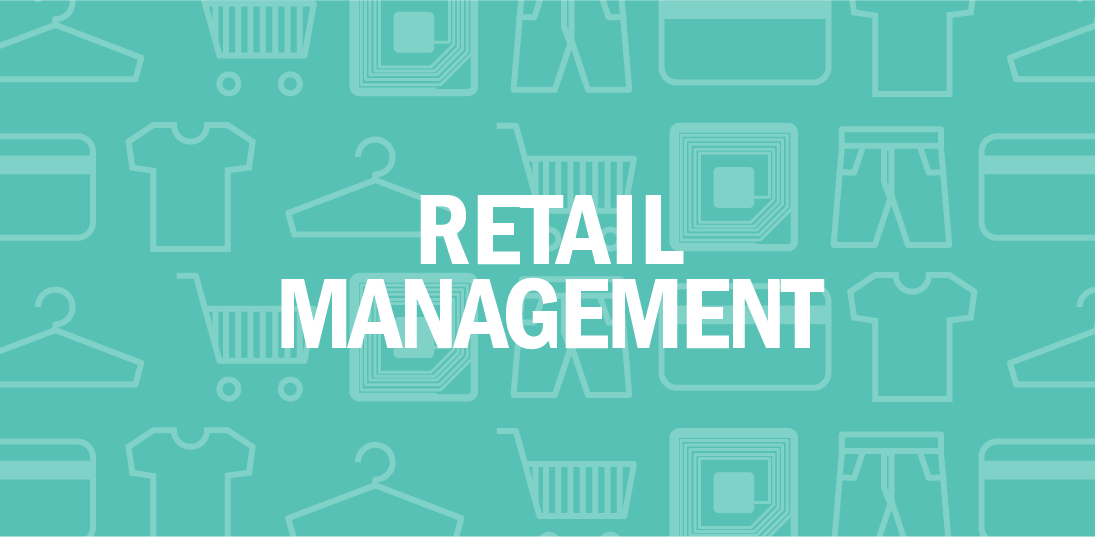 2. What is Retail Management?
If we talk about the retail industry, it has two portions i.e. Unorganised sector and Organised sector.
Unorganised Sector- Basically, the unorganised retail sector contains small general stores, street-side vendors, and local retailers such as fruits and vegetable sellers.
These people don't have much technical and financial knowledge about the retail industry. Most of the sellers are not even registered taxpayers.
Organised Sector- The organised retail sector contains a group or chain of stores with the proper distribution network.
It helps in increasing the work efficiency, minimising the cost and also generates more employment.
Retail Store Operations
All the activities that are necessary to create a well-structured business process as well as help to run a retail store with high efficiency, come under retail store operations.
Store Environment
Following are the points you should take care about your store environment-
Select a location that is easy to discover and reach for the customers.
The look and design of the store and also the signboard should be attractive enough to grab the attention of the customers.
Display merchandise and products outside your outlet so that the customer can easily make a decision to enter your store.
You should maintain the floor, interior, ambience, temperature and other physical conditions of your store.
Inventory Management
Following are the points you should take care of for stock management in your business-
Always keep a rough calculation of demand for different products that you sell. It helps you to maintain a wide range and predict your sales.
You should always balance the inventory and prevent understocking and overstocking. Because less stock cannot fulfil the demand and your running capital might get stuck due to overstock.
There should be enough space for the procurement of the stock.
It is very important to stay updated with the launch of new products from different brands.
Quality of the product you sell or the service you provide should never be compromised.
Always deal with the trusted suppliers that deliver your orders on time so that you don't it have to face any shortage.
Staff Management
It is the employee of a company who can make it or break it. Following are the points you should take care about your workforce-
Whether more or less experienced, always hire skilled staff and never tolerate under-performing members.
Provide uniform to every staff member so that they can look more professional.
If an employee directly interacts with the customer, then make sure he is always well-groomed and have good communication skills.
The sales pitch of the employees should be convincing so that the customers agree to purchase the product they suggest.
Provide them training to improve their level and necessary updates in a regular interval of time.
Customer Experience
It is the key to build a loyal customer base in any business. Following are the points you should take care of to provide the best customer experience-
If you run a self-service store, keep the products in separate departments according to their category, size, colour, etc. so that the customers can easily find any product they need.
If you have employees to attend the customers, then they should assist them as soon as they enter the store.
Greet your customers while they enter or leave the store.
If you belong to the service industry, then the customer must be satisfied with your services.
Build up customer relationship with healthy conversations and give them a reason to become a repeat customer.
Payment Handling
It is one of the major important processes for any business to survive in the market. Following are the points you should take care of in cash handling-
Use the cash register counter to arrange the counter cash properly.
Provide the facility of cashless transactions with POS (Point of Sale) machines, UPI or any other digital payment method.
Hand over the authority to control cash to the trusted person only.
If you provide the credit facility to the customers, then make sure you can recover it on time.
Make a habit to track the cash flow of your store on a daily and monthly basis.
Shoplifting
Basically, shoplifting is a theft activity where the person pretends to be a customer and steals the goods from the store. Following are the points you should take care of to prevent these activities-
Make sure that all the products are properly arranged at their place.
Install mirrors and security camera in your store for the surveillance of all the activities.
Don't allow the customers to take any kind of carry bags inside while entering the store.
Pay attention to everyone individually while attending more number of customers simultaneously.
Put anti-theft tags on your products, if possible.
Returns & Refunds
You may have to face it many times that due to any reason, the customer wants to return the product he purchased. Following are the points you should take care in these situations-
Use experiential marketing by letting the customers try the product before buying.
Honestly tell them the pros and cons of the product and let them decide whether it is suitable for them to buy.
Make your customer aware of your return policies before they purchase anything and always stick to it.
Misbehaving with the customer if they return any product it is not a sign of a good retailer. Handle them gently and leave a good impact.
If a customer returns a product, never Exchange with money. Ask them to select a replacement. It will balance your sale.
Retail Management Softwares
The best way to automate the operations of your store is the use of retail management software. There are many softwares available in the market.
You can purchase any of them according to your requirements. Following are the advantages of retail management software-
It helps to keep track of the inventory, sales, cash flow, staff attendance, etc.
You can analyse your top-selling and least-selling products of your store.
It becomes easy to save the contact details of the customers and target them for remarketing.
The monthly reports can help you to analyse the buying behaviour & pattern of the customers.
It saves your time of accounting and many calculations, so you can focus on other operations by utilising that time.
3. Retail Management Strategies
The retail industry is a very dynamic and competitive sector in the market. You have to apply various management strategies for the survival and growth of your retail business.
"You love it when you visit a store that somehow exceeds your expectations, and you hate it when a store inconveniences you, or gives you a hard time, or pretends you are invisible." − Sam Walton (Founder, Walmart)
The retail management strategies include marketing, pricing of the product, discounts to attract the customers as well as other techniques that help to grow your business.
Retail Marketing
Whether you talk about the product selling or service providing, marketing is the crucial part to reach your target customers and make them aware about your business.
If you really want to grow your business properly, you must include a marketing budget for the promotion of your products or services.
You can reach your target audience advertisements by the means of newspaper, television, brochures, etc.
And if you want promotions through digital channel, then you can go for Search Engine Optimization, Social Media Marketing, Google Ads, YouTube Ads etc.
Effective Pricing
Everybody knows very well that India is a very price-sensitive market. It is one of the major key factors to gain more customers.
You should always keep in mind the price of your product based on your target audience.
The purchasing power of the customers play a very important role to decide the price segment that you should go for.
Discounts & Sale
The graph of sales never remains constant. It always keeps fluctuating as different months of the year are offseason for every business. But, discounts always attract a customer.
The retailer can provide offers and discounts in the offseason or announce sales on special occasions.
It often helps to balance the sales and sometimes gives you healthy profit where you play upon volume of sales instead of high margin per product.
Coupons & Freebies
There is an another marketing strategy to build a loyal customer base for long term. The retailer can provide coupons or freebies on large ticket size. It provokes the customers to purchase more products in one go.
But, make sure that you have done the current calculation before taking this kind of actions or else you may have to bear a huge loss.
Feedbacks Mechanism
A retailer always tries to provide best products and services to his customer. But, it is very important to analyse the customer experience.
So, If you are a retailer, you must have a feedback mechanism in your business to track the buying behaviour and response of the customers towards your products, brands, or services.
You can ask them to fill a feedback form or put a suggestion box at your workplace. Also, Check those feedback on a regular basis and always work on the provided suggestions improve yourself.
Digital Transformation
If you are still running your business in the old traditional methods, I recommend you to upgrade from physical retail to digital retail.
It is nothing so different. It brings you an online identity to showcase your business to the world. You just need a website according to your business requirements.
So, If you want to promote your business and boost your sales, you can go for digital marketing to acquire the customers that you cannot reach in offline retail.
For any Web Development or Digital Marketing Services, or Business Consultation, you can contact Lapaas to take your business to the next level.
4. Importance of Retail Management
Also, If you ask me why is retail management important? The answer is that it is one of the most important factors to run a retail business flawlessly.
You might know any person who started a business but, could not survive in the market for the long term. The reason behind this is lack of knowledge of business operations and their management.
So, It helps you to serve your customers in a proper manner and boost the customer satisfaction.
If you are sincerely following the retail management process, you will notice an increment in the productivity of your employees also..
5. How to Become an Effective Retail Manager?
Meanwhile, The retail industry is rapidly expanding every day and it is the fastest growing business in the whole world.
It generates employment for millions of people every year. Following are the qualities to become an effective retail manager-
Should be well-dressed and well-groomed
Strong communication skills
Ability to convince people
Expert in negotiation skills
Motivate and train employees to develop them For the short-term and long-term business strategy
Maintain the coordination inventory
Should be updated about competitors and market trends
6. Conclusion
Whether you have a small shop for a big store, if you are running a retail business, then retail management is must to run it efficiently.
Either you are a seller or a customer, everybody has 24 hours in a day and the time is very important for all. Suppose if a customer enters your store and you are unable to provide the products of his requirement in the desired time, you have wasted his time as well as yours this is not a good sign.
Firstly, it ruins the customer experience and the probability of converting them into a recurring customer decreases. Hence this is kind of a loss for the future of your business.
FAQs
1. Is retail management a good career?
Yes, retail management is a very good stream to choose as a career as the retail industry is growing with pace.
Since the retail store chains such as Walmart, Big Bazaar, D Mart, etc. are expanding their networks, hence it is obvious that they will create many job opportunities in this sector.
2. What are the different job roles in a retail business?
Generally, a retail business comprises few broad categories such as food & grocery, fashion, jewellery and accessories, electronic consumer goods, pharmaceuticals, health care air and other FMCG sectors.
So, The retail stores of these businesses have following kind of job roles-
1. Cashier
2. Sales Executive
3. Inventory Manager
4. Lobby Manager
5. Floor Manager
6. Visual Merchandiser
7. Sales Manager
8. Marketing Manager
9. HR Manager
10. Logistics Manager
11. Also, Customer Service Representative etc.
3. What is the initial salary in retail management?
The salary in any business depends on the role and level of the employee. So, The retail sector as various job roles and if you are a fresher, then you can expect the initial amount of at least Rs. 10,000/- per month.
4. What is the difference between a sales manager and a sales executive?
People often think that these are the same job roles. But, there is a difference between essay manager and a sales executive.
Basically, a sales manager uh is the one who manages the day-to-day operations and leads the sales staff. Hence, Whereas as a creative is responsible for creating the sales strategies and maintains customer relationships.
Retail Management Definition
Basically, the unorganized retail sector contains small general stores, street-side vendors, and local retailers such as fruits and vegetable sellers.
These people don't have much technical and financial knowledge about the retail industry. Most of the sellers are not even registered taxpayers