Do you want to make your customers loyal? Loyal customer is a very important factor in every business.
Around 54% of B2B marketers focus on existing customers.
In this article, we will learn about loyalty marketing and how you can use loyalty marketing?
What's inside?
What is Loyalty Marketing?
Loyalty marketing is a marketing strategy by remarketing customers, giving them incentives. This strategy is used to encourage customers to buy again and again to create a deal. Loyalty marketing focuses on building customer loyalty.
Why loyalty marketing?
Loyalty marketing is not a new concept. Moreover, every marketer uses it to keep the profit from their existing clients. You can target your past customers through incentives. Also, you can gain their trust through loyalty marketing strategies. Moreover, targeting new customers is always very hard. Here's why-
Acquisition of new customers is very expensive
How expensive? According to research, the acquisition of new customers is costly. It is as much as five times expensive than retaining existing customers. Let's think about all the processes to attract a new customer. Brand awareness, marketing, tell them about your brand and many more. Also, the procedure does not end here as we all know the new customer is known to us and to our company both. So, there is a feeling of insecurity in somewhere deep in his heart that if the company will help in my business or they are just making their own profits or the company will stand for me and my company for years or not, or there is another company which can help me better and can give better quality for my business in the better price list.
Besides, there are the same insecurities for the company as well, as they are reaching to a new customer in a new industry or the same. Also, what you do to stand out in the competition. If you are proving the same product or service on the same price as all your competitors are doing in the market then what is the difference between you and them. In this case, you are not providing anything new or doing some additional value to your customers business.
Moreover, after all that even you have no guarantee that the customer will buy your product or services. You might be having an e-commerce website or a store online, and to get new customers. Moreover, you'll be needing to take them through your website and impress them. All those steps will add cost, and it would be chaotic. But, think of convincing your existing customer to buy a product or service.
Which one is better according to you?
You have many advantages, and you can market their products using Loyalty marketing. Also, this strategy always works for your existing customers. Here you don't need to focus on brand awareness as they already trust you and know about you and your business.
You have an advantage here, and you can target them . Also, Loyalty marketing can only work for old existing customers. But you also need new customers to increase your business growth.
Easy to market old customers through Loyalty marketing
As you already know that customer, they are more engaged to you. They already have trust and know your business very well. It's easier and cheaper to target old customers.
They trust you for some reason, and you have to maintain those. There's more probability to sell existing customers than new customers by 60-70%. So, the likelihood of selling a new customer is as less as 5-20%.
These can be achieve by proper Loyalty marketing to your customers.
,loyalty marketing is base on strategies to make your existing customer loyal. So, they will come back to you next time.
Is customer loyalty important? How does Loyalty marketing work?
Loyalty marketing is important for all businesses. Moreover, it's all about strengthening the relationship with your customers. You can market the products in the future also.
Loylty marketing works for companies that have repeated buyers and regular buy. Businesses like restaurants, supermarkets, shops, etc. should focus on loyalty marketing.
Loyalty marketing strategy differs from business to business. If you have a shop, restaurant, then you can use loyalty marketing strategies. You can use referrals, incentives, coupons, sales, etc.
Moreover, giving such temptations, you can gain your customer's trust . Also, they would prefer to buy next time from you. But these strategies can be for specific customers.
If you have a business where your customers don't buy , then loyalty marketing is not for you. For example, if you have a travel-related business, then you don't know if the customer will come back. So, in such cases, loyalty marketing would not work.
The happy customers who are also loyal to you will come to you again. In many businesses, they take reviews from the customers from a scale of 1-10. It's always noticed that the customers who are satisfiy and happy come back next time. Moreover, they also refer you to their friends and family. It's called word of mouth, which means they will go back again.
As we all know, acquiring new customers is more expensive than retaining your existing customers. Well, to gain your customer's trust, I have a few ideas.
Tips for a successful loyalty program
A loyalty program will help you to increase your sales and brand value. Many businesses provide a loyalty card for business growth and to gain customer's trust.
You can give them cash backs.
If you have a travel business, then you can give them free travel tickets and deals.
For stores, give them points on the buy.
Discounts
Upgrades
Memberships
access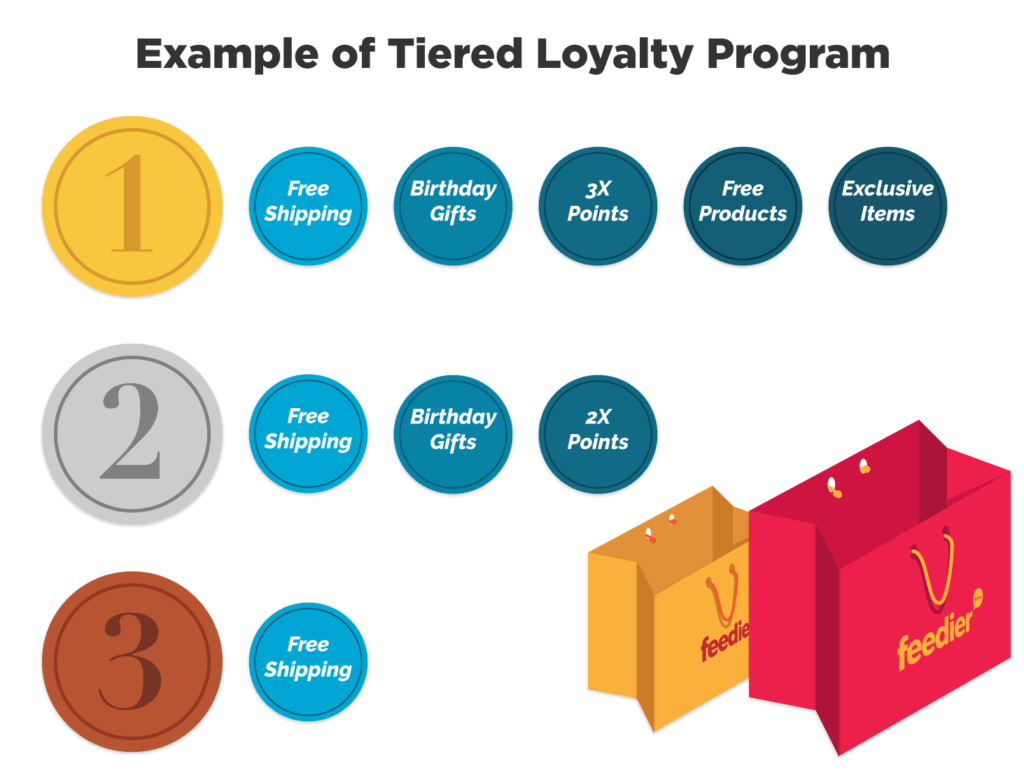 Examples of successful loyalty marketing programs
They give points according to buy by the customer. Also, this program is free and available in mobile applications.
Customers gain points on every US dollar. This strategy engages customers to the brand, and they become loyal to you.
Virgin and Atlantic Flying club
This is a traveling company that provides you with points on flying miles. It counts your traveling points. These points are added and to future travels.
In these clubs, there are 3 tires, and according to these tiers, customers get different benefits.
Customers usually get more advanced if they spend more.
Amazon gives it's customers 2-day shipping free on any products for less than $100.
For frequent customers, Amazon prime deal is beautiful. They also provide offers and discounts for frequent shoppers. These deals and offers make it reliable for customers to stay loyal to Amazon and it's services.
How customers loyalty will help your business
Customer loyalty is not definite, as, in the market, many brands and companies are giving you a fierce competition. You might lose a loyal customer if anything goes wrong from your side.
If other brand tries hard you can lose your customer.
Still, you have to make those steps to get your customer's by Loyalty marketing strategy.
Consider customers feedback
As many companies are ready to take your customer, but it's a part of the business, and no one can control it.But as a business owner, your responsibility is to minimise those distractions. Also, try to figure out why your customers are leaving you.
Many factors affect in retaining your customers. try to understand those and take your customers to feedback .
take your customers to feedback about your product and service.
Sephora
Sephora is a cosmetic brand that sells beauty products. This brand provides a point-based loyalty program.
They provide Beauty insider card which they can swipe and gets points on every buy.
Use social media to take their feedback.
Provide customer support. Response them in a professional, quick, and effective way.
Email Marketing service will make it easy for you to stay in contact with your customers and make them aware of your products and services.
Appreciate your customer's feedback
On social media, you can get many options to stay in touch with your customers
On social media and Twitter, there is an option of identity expression where you can get feedback. This loyalty marketing strategy is useful if you want to make a real relationship with your customers.
Also, many customers will not give feedback, so it's essential to look after customer's feedback after you get one.
You can also give them a small call after you get their feedback for gratitude, or if they have some issues, then try to solve them.
Giveaways, and incentives for repeat business
Sometimes, even loyal customers can leave you if other brands are giving them something extra. , when another brand is cheaper and newer, your loyal customers can jump to them.
To come out of such situations, you need dynamic loyalty marketing strategies.
Give incentives, offer from time to time to your customers
Referrals program to encourage your customers
A referral program is a loyalty marketing strategy that encourages customers to market their friends. They tell their family about your business. Word of mouth is very useful in generating high sales.
You can incentivise them with free products or services. You can give them cashback, offers, free stuff if you on 5-10 referrals.
Conclusion
Loyalty marketing is to keep your customers loyal to grow your business. Loyal customers usually come back and make a buy. Loyal customers will help you to gain profit in the long run also.
To conclude, to make your customers loyal, you can use many strategies mentioned above. These strategies will help you to make your customers loyal. Moreover, in the long run, loyal customers can bring leads and customers to your business.
, you need to understand how others are appealing to your customers. Also, try to take customers feedback for better service.
You can make a customer loyal with some strategies like:
Giveaways
Offers
Coupons
Website and social media
website
You can also make changes in your marketing strategy if your customers are not happy. , you should always try to make your customers happy. But, sometimes customers also leave if others are giving something extra. Besides, try to use loyalty marketing strategy to make your customers loyal
It's tough to keep your customers loyal for long because of more competition. As a rule, you should always try to please every customer need.
FAQ's
Is loyalty program useful for all customers?
Loyalty programs are strategies to make your customers loyal and happy. You can use the loyalty program in every business. It includes making buyers personas for better user experience. Also, try to give them cash backs, offers, and giveaways, to make a profit in the long run
What is a Loyalty marketing campaign?
A loyalty marketing campaign is to know more about your customer's likes and dislikes. This campaign is for a specific type of customer. Customers usually keep changing shops. Moreover, to avoid this, try to make your customers more loyal. You can also try these strategies to make a feedback system.

Consider their feedbacks.
Use a more website.
Give your cash backs.
Use user, friendly customer service.
Readers Rating

No Rating Yet!
---