Who do you trust the most? The recommendation on google or proposal on YouTube or any other social media advertisement VS your family, your friends, or even in some cases strangers(reviews about specific products).
It's pretty easy to choose from the above options.
I know it's your family and friends, we get convinced by references, reviews.
With the help of referral marketing, you can reach a broader base of audience.
You can withstand the industry competition with the use of referral marketing techniques.
In this blog, we are going to learn about referral marketing and specific techniques.
These techniques help you to apply referral marketing and get results.
WHAT'S IN IT 
What is Referral Marketing
Referral marketing is a technique to increase the customer base through word-of-mouth. And also through recommendations with the help of existing customers. Referral marketing techniques can be in many ways. According to a study, people are 4x times more likely to buy a product. If it is referred to by a friend or family. The referer and the referred usually get some incentive on each referral. This is the actual driving force for the referral marketing technique.
Referral Marketing For Competitive Advantage
Recommendation and referrals are of great importance. These are useful to stand out from the crowd. Referrals turn your satisfied customers into your brand advocates. Moreover, they are satisfied with your product. So they find it to be an opportunity to get some return on their investment. Thereby, they refer your product to their friends and family.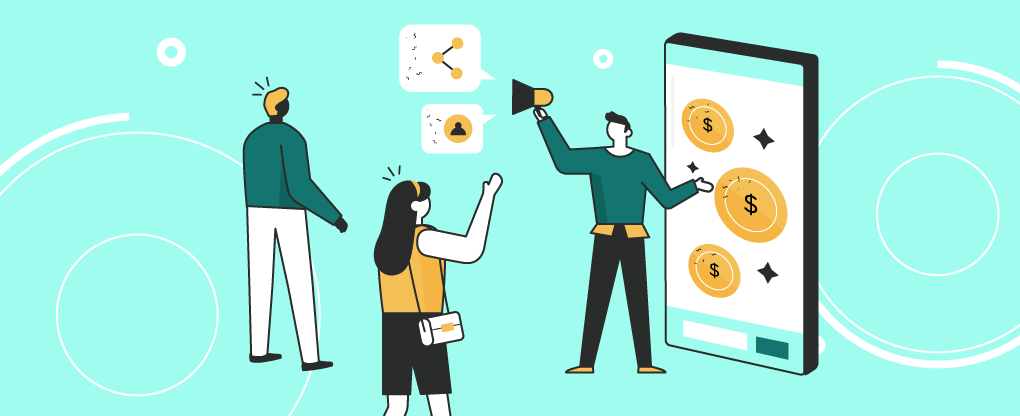 They persuade them to buy the product for their benefit. However, they are working as a salesman for the company. These are working for the company for free. Besides, the conversion rate of this marketing technique is way high. As we have seen above, a common man relies on friends and family more than promotions.
How to Build a Referral Program?
1 EITHER PROVIDE AN EXCEPTIONAL PRODUCT OR EXCEPTIONAL PRICE
Firstly, we need to provide either an exceptional product. Otherwise, an excellent price for the product that you offer. As if you are not going to do anything different from what your competitors do. Therefore, there is no reason why people need to take your service. Hence they are going to go to the same old vendor and no matter how strong your referral program is. It's going to flop.
2 PUT YOUR CUSTOMERS FIRST
Unless you have a satisfied customer base, there is no fun of having a referral program plan. It's ultimately your customers who are going to make sure that their friends are well aware of your brand or not. For this, you need to have good relations with your customers. This is possible through communication. Try to interact with customers as much as possible. At online platforms, try to reply to the comments on your posts and try to fetch feedback from customers. Further, it provides them with solutions to their queries.
3 CLEAR MARKETING GOAL
The first two points discussed above were the right business strategies. The actual step to set up a referral program is to have a clear marketing goal. It's essential to spot these goals. Finally, these goals allow you to measure how well the program is doing, and see if you're acquiring your targets.
Designing a Referral Program
It is not enough to just think about making a referral program. It is necessary to work on the design of this referral program.
1 USE CATCHY HEADLINES
Before you start to get a referral, you need to get the customer's attention. Headlines are of utmost importance to attract customers.
A good headline gives a brief go through about the program in one line.
Here are a few examples of attractive headlines
Give ₹100, Get ₹100
Refer a friend and earn ₹15
2 CREATE REFERRAL MESSAGING
You should try to cater to your customers with a well-written referral message. As to your customers, their time is more important than writing a referral message. So, it means that pre-filled messages get better results. Along with this, you should provide them with an option to edit the existing message to add a few more lines.
3 MAKE IT EASY FOR PEOPLE TO REFER
The referral program should be easy to share. If it would be a long, complicated process to refer to, then customers might give up halfway.
4 WHO TO REWARD
It should be a prior decision to give rewards to the new customer's existing customer or both of them. It gives incentive to the existing customer as he is the only one who will refer to your brand. If there is no motivation to share, the referral program will not even start and will already be a flop.
5 DECIDE WHAT REWARD TO OFFER
Different business firms need to give different rewards. E.g., if you have a restaurant, you might give a discount coupon or a free shake with each referred friend. If you have a software company, you can give free premium tools as a reward for the referral. So you can decide the type of reward according to the niche you are working in.
Who Employs Referral Marketing?
A wide variety of businesses practice referral marketing programs. Businesses are ranging from individually-owned businesses to entrepreneurial companies. So, some businesses where referral marketing strategy is applied include
1 Retail store
2 Specialty stores
3 Restaurants
4 Automotive service companies
5 Airports, hotels, and travel agencies
6 Banks
7 Health clubs or gyms
8 Doctors
9 dentists, and health professionals
Many online companies also use referral marketing programs. As it is highly effective, due to the popularity of social media sites. Moreover, it is more affordable to promote our products online.
Conclusion
Referral marketing is a technique to increase the customer base through word-of-mouth. And also through, recommendations with the help of existing customers. Recommendation and referrals are of great importance and are useful to stand out from the crowd.  The conversion rate of this marketing technique is way high. Referral marketing is practiced by a wide variety of businesses. Businesses ranging from individually-owned businesses to large companies as large as industries.
FAQ's