Cross-media marketing is also known as multichannel marketing and In this type of marketing companies do cross-promotion, in which companies commit to doing something outside of traditional advertising.
They also include extra appeals by combining digital marketing because consumers are affected by several kinds of media.
So, in simple language promotion of your marketing message amongst different media to integrate your marketing message into the minds of people is called Cross Media Marketing.
WHAT IS CROSS-MEDIA MARKETING?
According to the cross-media expert Monique de-Haas-
"Crossmedia is a communication tool, including a story that encourages you to switch from one medium to another, and back."
So, In simple language, cross-media means to promote your product with the help of different media.
The product can be anything, e.g., a written ad, a YouTube video, an image, a song.
Therefore, the content can be promoted by television commercials, newspaper ads, magazine ads, Google Adwords, or can be anything. Also, There are thousands of options with new creative ways of marketing developed every day.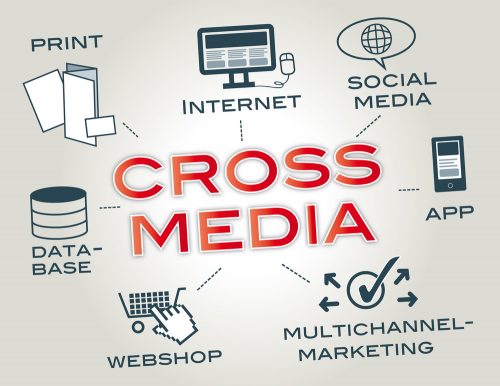 WHO EMPLOYS CROSS-MEDIA MARKETING?
Agencies and corporations know that today's consumers do not convert by only one ad. There is a trendy concept in marketing known as "Rule of Seven." According to the concept, it takes at least seven interactions before a visitor converts into a customer.
Thus, now a day's cross-media marketing is in a trend. Nearly every corporation, organization, and agency use at least two forms of media to market their products or services.
Not only corporations' political parties, religious parties, NGOs, non-profits, but charities can also do cross-media marketing.
Also, Religious organizations can do cross-media marketing to make people do prayers every day.
Meanwhile, Charities, non-profits, NGOs do reach people to collect more money for their operations.
FOR WHAT KIND OF CUSTOMERS IS CROSS-MEDIA MARKETING EFFECTIVE?
So, most people are susceptible to cross-media marketing. That is why a cross-media marketing campaign is beneficial in building brand awareness.
Many corporations use cross-media marketing to increase their brand awareness by placing themselves before customers as often as possible. However, more often people see a company message (advertisement), the more familiar they will be with the company's product and the product will be integrated into their subconscious mind very deeply.
Then, though they are not consciously thinking, their subconscious thought will drive their purchasing behavior.
That is the sole purpose of cross-media marketers to persuade their customers to buy their product, not even let them realize that they were persuaded.
7 COMMANDMENTS OF CROSS MEDIA MARKETING
A Cross-media marketing campaign is a complex process. Here are seven commandments of cross-media marketing.
1. Give the customers exclusive content. e.g., some YouTubers put some moments (wrong dialogue or mispronunciation) at the end of the video (product), which was not used in the original video. Most viewers (audience) are excited to know what happens during recording.
2. Engage with your audience more deeply. Hence, Interact with them by organizing a poll or asking them questions.
3. Use more than one media to keep in touch with your audience all the time to make your image more prominent in your audience's mind.
4. You can use viral games or build a fan club to increase your customer's loyalty.
5. Create a positive atmosphere because everyone wants to be happy. Nobody likes negativity.
6. Enhance the user experience of your users.
7. Use multiple devices. A multi-device system increases your bottom line.
BUILDING ACROSS MEDIA MARKETING CAMPAIGN
Building a cross-media campaign is not a very difficult task. Here I discuss three simple steps, you can follow to build your multichannel marketing campaign—
1. Determine your message:
Think creatively to determine what your message will be? What are you going to communicate with your customers?
Whatever message you want to communicate, it should be consistent across all media. Because if you spread different massage in various media, it can confuse your audience.
2. Determine your target audience:
After determining your massage, figure out for whom you are running the marketing campaign? Figure out who your target audience is? This step is crucial because if your target audience is teenagers, running a newspaper ad campaign may not be the best choice.
3. Determine your goal:
Lastly, determine what you are expecting from your marketing campaign? Find out a crystal-clear Call-to-action (CTA).
CROSS MEDIA MARKETING STRATEGIES
1. Deliver a clear message:
Deliver a clear message to make your ad campaign most effective. As I said earlier, the massage should be consistent in all the media you use for the multimedia ad campaign.
2. Make videos a priority:
Numerous studies show that people like watching a video more than reading a blog post. Because videos are simply more engaging. That's why videos are becoming a priority for companies. You should also make video a priority to deliver your message.
3. Create a clear Call-to-action:
A clear CTA is vital because it regulates the further action of your audience. A clear Call-to-action can increase your Conversion rate.
4. Maintain a synergy across various media:
In a cross-media marketing campaign, you use more than one media. Therefore, you have to ensure that all of your media platforms work in a synergy to build and maintain consistent brand awareness.
5. Put your audience first:
Customers are king. So, before design, a product or launching a marketing campaign always keep in mind the needs of your audience.
6. Offer personalized service:
It is essential to add some personal touch in your advertising because it will help create trust and strengthen your brand image.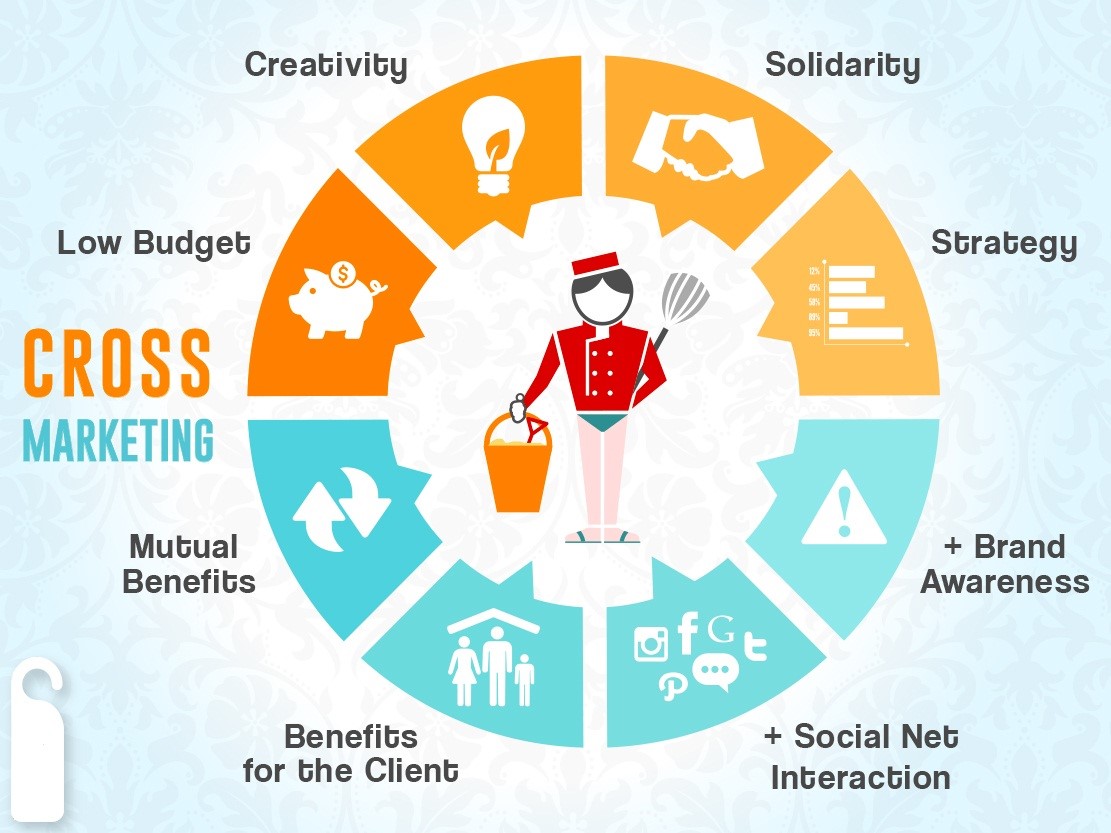 BENEFITS OF CROSS MEDIA MARKETING
1. Deeply connect with your customers:
Multimedia marketing helps to build a long-term relationship with your audience. Because the more they engaged and interact with your product, the more prone they will be to buy your product.
2. Broadening your reach:
Marketing via multiple channels ensures greater visibility of your product. Marketing is all about starting a conversation. Thus, starting a conversation across multiple channels can exponentially increase your brand awareness.
3. You can focus on the most suitable channel for you and your customers:
Finally after completing the campaign, you can gather the data related to the effectiveness of various media. Then, after having these data, you can structure your next campaign more effectively.
4. Increase your brand awareness and improve your brand identity;
5. Reduce your cost for marketing:
As you spending your money collectively on various media platforms, cross-media marketing significantly reduces your marketing cost.
6. The outcome of your advertising campaign is visible after the campaign.
TOOLS OF CROSS MEDIA MARKETING
1. Direct mail:
"Old is Gold." Direct marketing is still the most popular and cost-effective multichannel marketing tool. It is the best starting point for your cross-media marketing campaign.
2. Email:
Emails have a central role in your cross-media marketing campaign. You can run an email marketing campaign in addition to any marketing media platform to emphasize your marketing message.
3. Newspaper and magazine ads:
These are the old traditional ways. They were rapidly losing their popularity in the digital world. So, you should always use other marketing channels in addition to newspaper advertisements.
4. Television ads:
As YouTube becomes more popular every year, televisions are slowly losing their popularity. Additionally, television advertisements are very costly. You should use them only if you have a large pocket.
5. Google Adwords:
The ads you see on various websites, YouTube channels are products of Google Awards. They are cheap and affordable because you can set your Google Adwords campaign very quickly. So, you only have to open a Google Adwords account, and according to your budget, you can run your marketing campaign.
6. PURLs, CURLs, and GURLs:
PURL—Personalized URL.
These URLs are for everybody on your marketing list.
CURL—Customizable URL.
These URLs are for a specific group of individuals on your marketing list.
GURL—Generic URL.
These URLs are designed for a specific marketing campaign.
7. QR code:
Quick Response Codes are becoming more popular nowadays because it is elementary to use. For example A person only has to scan a printed QR Code with his smartphone. The person will automatically direct to your website.
8. IP targeting:
IP targeting is the process showing specific advertising to a specific person based on their Internet Protocol (IP) address. Thus, It targets a particular multichannel marketing tool.
There are numerous more. But these are so far the most effective and thus most popular.
PROBLEMS AND CHALLENGES
In Cross-media marketing, you must use different media platforms to spread a specific message. Additionally, you have to maintain asynchrony across your different media channels to avoid confusion. Maintaining effective communication between different teams working on different media platforms is the biggest challenge of multimedia marketing.
Conclusion
At last, I can say that direct marketing is a highly effective and cost-efficient marketing method. Though it is an old fashion way of marketing strategy, today, most marketing resources are spent on direct marketing. In direct marketing, you reach to only those people who have completed a particular task. That is why this type of marketing is very personalized and effective in increasing your sales. Nowadays, you can use database marketing with direct marketing to increase the effectiveness and efficiency of direct marketing.
FAQs
What is the software of cross-media marketing?
i)Oracle CX Marketing (formerly Oracle Marketing Cloud) Reviews
ii)Salesforce Marketing Cloud Email Studio Reviews
iii) Adobe Campaign Reviews

Cross Media Concept?
Crossmedia is a communication tool, including a story that encourages you to switch from one medium to another, and back.
You may hear the name of Popular games Such as PUBG, GTAV vice City and…