I assume that some of you may know the meaning of marketing, but let me give you a short definition for some who don't:
Marketing refers to activities/actions a company undertakes to promote the buying or selling of a product or service.
Traditional marketing is old yet effective, and everyone must have heard of it whether he/she is of commerce background or not. So what exactly does it mean?
Traditional marketing means any type of marketing that isn't online, or we can say it is the offline type of marketing. It includes direct sales, print advertising, broadcast, billboards, direct mail (letters, postcards, brochures, flyers), etc.
WHAT'S IN IT 
How and When Traditional Marketing Started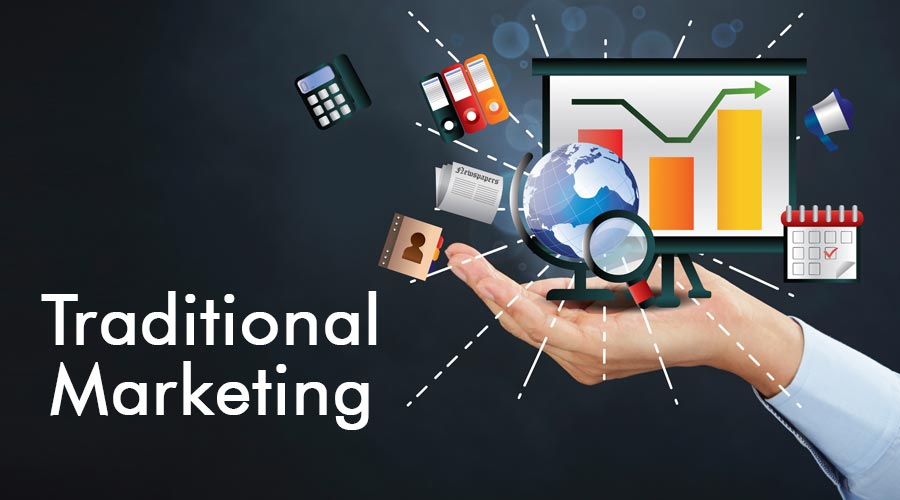 Let us first understand who, how, and when? The primal traditional marketing techniques are:
Print
Primarily it is but one among the earliest types of promotion utilised to market a good or support. Since the early days, this tactic was doing usage when Egyptians used papyrus to earn product sales messages and wall graphics.
From the ruins of Pompeii and also Arabia, industrial political and messages effort screens are located. At 4000 B.C.E, the convention of wall-painting might be traced straight back to Indian stone art paintings.
The very first printing has been first done in China, throughout the 618 B.C.A statement searching a client to the Oyster Bay, Long Island real estate, has been published within the Boston book in 1704. This was the exact first paper advertising. That is just how before today, organizations internationally rely upon printing advertisements, but now, as a result of digitalization, this industry is experiencing rough moments.
Radio
Another old form of traditional marketing is through radio.
During early age, when radio was recently introduced, it was often the primary source of entertainment for the people. Businesses never thought of it as a medium of advertising.
Radio stations began to ramp up their offerings, and it became the norm to broadcast continuously between 1919 and 1922.
Station owners begin obtaining business licenses and seeking ways to make medium self-sufficient. Thus, Radio advertising came to be.
The first recognized paid form of radio advertising came in early 1922 when AT&T began to sell toll broadcasting opportunities via the WEAF radio station of New York.
The golden age of radio lasted from the early 1930s through the late 1940s, as almost 90% of radio stations in the United States were broadcasting commercials.
Stations were generating enough revenue to support their operations and increase their offerings.
Right after World war II, radio fame went into decline, and a new medium appeared on stage.
Television
After the World War, the whole world suffered through many years of economic depression, but with time many industries recovered, and then came the era of television advertising.
On 1st July 1941, the world's first television commercial aired for the Bulova Watch Company that cost $9.
As television offers both sound and picture, it attracted a large set of the audience compared to radio.
Though it is a costly form of advertising, almost all the companies worldwide are using this form to advertise their product or service.
Strategies of Traditional Marketing
Some of the techniques used for traditional marketing are as follows:
Signage signifies that the usage of logos or layouts or hints to communicate that a note. The expression signage has been recorded to get already been popularized by 1975 to 1980.
Direct email employs printed stuff such as brochures, postcards, flyers, and letters to draw clients sent as a result of postal emails.
That's why this method has a limited reach and can be expensive as the business has to spend on the design and printing of materials.
Trade shows me-an an exhibition of companies in a specific market to reveal their new services and products. Their popularity is growing always.
Print marketing means creating awareness of a product or service through ads in newspapers, magazines, billboards, the Yellow Pages, etc. This method is a bit expensive.
It is also known as oral or mouth to mouth marketing. It leverages offers to help promote a company's product or services.
Customers who bring in other customers are provided with referral payments/gifts by some businesses
Promoting a product or service through television or radio is still a popular way of marketing, but a few small businesses can afford to rely on this method.
It means promoting a product or service over the telephone through recorded sales pitch over automatic calling or via direct calling or through messages.
It means marketing a product or service directly to consumers through door-to-door marketing or over the telephone.
Some Interesting Stats about Traditional Marketing
It is expected that T.V. advertising earnings from the United States will grow from £ 71 billion in 2018 to $72 billion by 2023.
From the financial year 2019, earnings from printing advertisements around India was 220 billion Indian rupees. This was called to go up to 276 billion rupees from 2024.
At 2019 television Industries reveal advertisements cost payable to nearly 253 billion Indian Rupees. It was anticipated to go up to 270 billion rupees from 2020, a yearly growth rate of 36 per cent.
In 2019, radio advertising spending worldwide amounted to $38.4 billion.
International T.V. advertising earnings are estimated to grow from £ 173 billion to £ 192 billion amongst 2018 to 20 22.
Source: Statista
Comparisons
Traditional Marketing v/s Entrepreneurial Marketing
| | |
| --- | --- |
| Traditional Marketing | Entrepreneurial Marketing |
| Firstly, traditional marketing means relying on every strategy and activity which is offline to promote a product. | According to management and marketing, "It is a proactive identification and exploitation of opportunities for acquiring and retaining profitable customers through innovative approaches to risk management, resource leveraging, and value creation". |
| Secondly, as it is an old method, it has some major drawbacks which entrepreneurs likely avoid. | Nowadays, most successful entrepreneurs prefer this method as it is more effective in terms of cost, time, and flexibility. |
| While it is defined by customer orientation. It requires an assessment of market needs before developing a product. | On the other hand, it is defined by entrepreneurial and innovation orientation. It starts with an idea and then finds a market for it. |
| Traditional marketing is based on 4Ps: product, price, place, and promotion. | Certainly, entrepreneurial marketing is based more on reaching out personally for feedback. |
Traditional Marketing v/s Digital Marketing
| | |
| --- | --- |
| Traditional Marketing | Digital Marketing |
| It is a convenient mode of marketing that helps to reach out to target audience with various offline modes like advertising and promotion in newspaper, magazine etc. | Digital marketing is any marketing that conducts online using digital channels such as web and social media as tools. |
| Traditional marketing uses offline methods to interact with customers through print ads, billboards, broadcasting, etc. | While on the other hand, digital marketing is facilitated online and uses paid or organic ads on social media, search engines, influencer marketing, etc. to reach their customers. |
| By using this method, there's a probability that it reaches late to their customers. | While on the other hand, the same advertisement can reach a faster potential customer as people spend comparatively more time on the internet than on different media. |
| Once the advertisement is out one cannot edit or remove the ad if there is a mistake in the advertisement | While one can edit or delete the ad anytime on online platforms. |
Also You can Read Our Blog On What is Digital Marketing – Most Detailed Guide
In the above comparison between traditional and digital marketing there are both advantages and disadvantages but despite their differences can they work together let's see:
Can they work together
Yes, they can work together. It's maybe the case that nowadays, business owners/entrepreneurs prefer digital means of marketing over traditional marketing.
However, with a composite of conventional promotion and electronic digital promotion has become easily the best system of promotion, a lot more effective than making use of on its own.
Let me give you an example: Suppose Domino's recently launched a new range of pizzas and they ran an advertisement about it on T.V. and if I want to know more about it, or I want to eat it without going out. I can do so easily as their online presence made it possible for me to look for more options and order the pizza online.
Every big company nowadays uses both of the techniques to gain maximum benefit from it.
I know that this may cost a start-up or small business a lot, but using a cheaper version of both the tactics can make it work for you.
For instance, using print media doesn't cost that much, and at the same time, running an ad on Facebook can cost around $0.50 to $2.00 pay per click for most industries.
Above all, utilizing both tactics allows your company's message to spread across many different channels.
When they are combined, both plans can be enjoyed as they compensate for each other's weaknesses.
Conclusion
To sum up, there's a very interesting and long history behind how traditional marketing started, and each one has it's a unique feature.
It is believed that traditional forms of marketing have become old and outdated, but still, many small businesses and even large corporations depend on this. This industry may face a downfall, but no one can completely neglect it.
If a company wants to make its presence known public, it should make both digital marketing and traditional marketing go hand in hand.
FAQs