Do you want to Start Your Own Business? Then, Drop Servicing Business is the best business you can start. So let's read a detailed article on how you can start your own Drop Servicing Business?
What's in it for me?
What is Drop Servicing Business Model?
Drop Servicing is a business model in which you book a client who needs service and outsources so, that work to a third party or earns a decent commission from the entire process.
For Example- You find a client who needs a website development client, you charge $500 (35000) from your client after that you outsourced this work to their party at a lower cost, suppose you have outsourced this work to a freelancer of Fiverr on $300 (21000), now you earned $200(14000) commission from this entire process.
How To Start A Drop Servicing Business 💸 Make Money From Home 💳
Also, Drop Servicing is one of the most profitable businesses that come from the Dropshipping Business Model in which you transact products. The only difference between Dropshipping and Drop Servicing is that in Dropshipping you deal in products, but In Drop Servicing you deal in Serving.
Hence, The other great benefit of Drop Shipping is that you don't need too much investment, the only thing you need is a good sales skill. So, The earning potential of Dropshipping depends on the clients you book each month.
Top 5 Services For Drop Servicing Business
So now you understand what is Dropserving, but are confused about which service you can provide in your Drop Servicing Business. Don't worry we have prepared a top 5 list of most profitable services which you can offer to your clients
1. Website Development
Also, The first most profitable service you can offer to your client is Website Development. The demand for website development is increasing day by day because every business now wants to build their business inline
Check out this Youtube video for complete tutorial on website building.
2. Social Media Marketing
Social Media Marketing is also the most profitable service you can offer to clients. Hence, There are two jobs involved in social media marketing. So, The first one is Organic Marketing and the second one is aid Marketing. Also, In Organic Marketing you have to create content for Social Media and in Paid advertising, you run ads for clients. Both services are profitable but social media management (organic marketing on Social media) is more profitable than Paid Advertising.
3. Content Writing
Meanwhile Content Marketing is one of the best ways to market any business. Also, Nowadays a lot of businesses want to promote their business online and for that, they use content marketing to promote their business. Hence, In Content marketing, you can offer blog post writing or Blog posting services to your clients.
4. Graphic Designing
Graphic Designing is another most profitable service you can offer to your clients. In Graphic Design you can offer a wide range of services such as Social media Post Design, Logo Design, Brochure Design and Banner Design etc.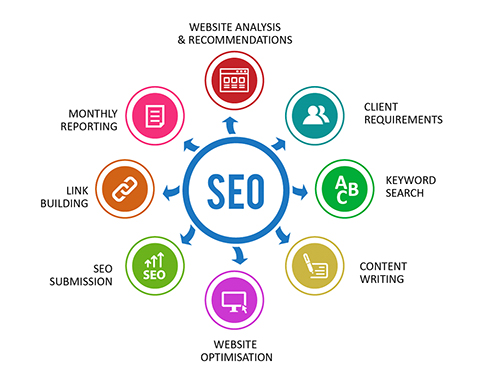 5. Search Engine Optimization
So, Millions of people search their query on google every day and there are tons of results available on google. So businesses use Search engine optimization to rank their business on to. Meanwhile, In Search Engine Optimization Service you can offer on-page optimization or link building service.
How to Start Drop Servicing Business?
Choose A Service


So, The first thing you need to do is select a service that you want to offer your customer. Don't select a service because it is most profitable or someone is telling you to select a niche.

Also, Select that service in which you have basic knowledge or understanding because if you understand a service then you will be able to get more clients for your business.

Meanwhile, Understanding of a service and client;'s needs will be very helpful in the sales process. So the first thing you have to do is select a service that you want to offer on your Dropship Business.


Choose Where You Can Outsource


The second thing you have to do to start your dropshipping business is to choose where you will start your business. For instance, There are a lot of ways to outsource your work such as Fiverr, Upwork, agency or freelancers.

For example, if you want to provide website development service, then simply go to fiver and search for freelancers and outsource your work. You can also outsource your work to an individual if you know anyone.

There is a common mistake people make when they outsource their work: they only look at price because if you pay less your profit will be more, but you forget about the quality.


Create A Sales Funnel


Meanwhile, The last thing you have to do is create a sales funnel. Sales funnel means how you will get clients for your business. So far you have chosen which service you will offer to your client and where you will outsource that work, now you have to dece how and from where you will get clients from your business, will you run ads for it or will reach out to your prospect manually.

So, You can also develop your website if you want your business to be trustable because you did not say to your client that you will outsource your work to someone.


Cold Calling
Cold Email
Linkedin Direct Reach
Instagram Dm
Facebook Group
Facebook Ads
Google Ads
Content Marketing
Search Engine Optimization
Family, friends or Existing Network
Golden Opportunity For You
Meanwhile, We have just launched our Drop Servicing Programme. so, If you're interested in starting a Drop Servicing Business you can register yourself with us. We are a Digital Marketing agency based in Delhi. We provide all Digital Marketing Services such as Website Development, Social Media Marketing, Content Marketing and Graphic Designing Services. So, All you have to do is promote our service and we will pay you commission on every client you refer to us.
Benefits of Working with
We have a team of experts who have delivered quality work for the last 5 years. So we will ensure your quality work.
Also, We are offering flat prices for our services, now it totally depends on you how much you want to charge your client.
Also, We will provide you with the full support you need to onboard a 1client.
We will also provide you training material so you can become a better salesperson.
How You Can Join?
WhatsApp us "I want to Join Drop Servicing Program" on +91 95400 65704.
After your message, you will get a confirmation message from our side.
So, In the confirmation message, you will receive all the details like pricing or training material etc.
Now you can successfully onboard client to us
Frequently Asked Questions
1. Who can Start Drop Servicing Business?
Anyone can start Drop Servicing Business. Hence, t is relatively easier business to start with.
So, There is no set rule to start a Drop Servicing Business. You just have to know how to find clients and deal with them.
2. What Skill we need for Drop Servicing Business?
Meanwhile, The most important skill you need for Drop Servicing Business is Sales and Marketing

3. How much we can earn from Drop Servicing Business?
There is no limit on earning. So, Your earning is totally dependent on your clients. The more clients you will onboard, the more you will earn.

4. How much Investment do I need for Drop Servicing Business?
The need for investment is depending on your way of marketing and advertising your business.

So, There are a lot of free and paid ways to market your business. It depends on which you choose to market your business and how much budget you want to spend on marketing of your business
5. Is the Drop Servicing Profitable?
Yes, this business is profitable because it is easy to execute.

Also, You do not need to have bought any physical goods to start this business nor you have to do shipping of products. Hence it is an easy way to earn money.